What is Christophe Marchesseau's method of treatment ?
"Massage could be a technique, but it won't be effective without intuitive connection that makes you perceive the body as something more than a biomechanical machine. With a good intuitive connection, you will feel the body as an energetic universe in motion.
The key point is trusting your own intuition which helps the person who is being massaged to find his rhythm, his natural breathing, his vibration, his life force, his balance and his self-healing forces"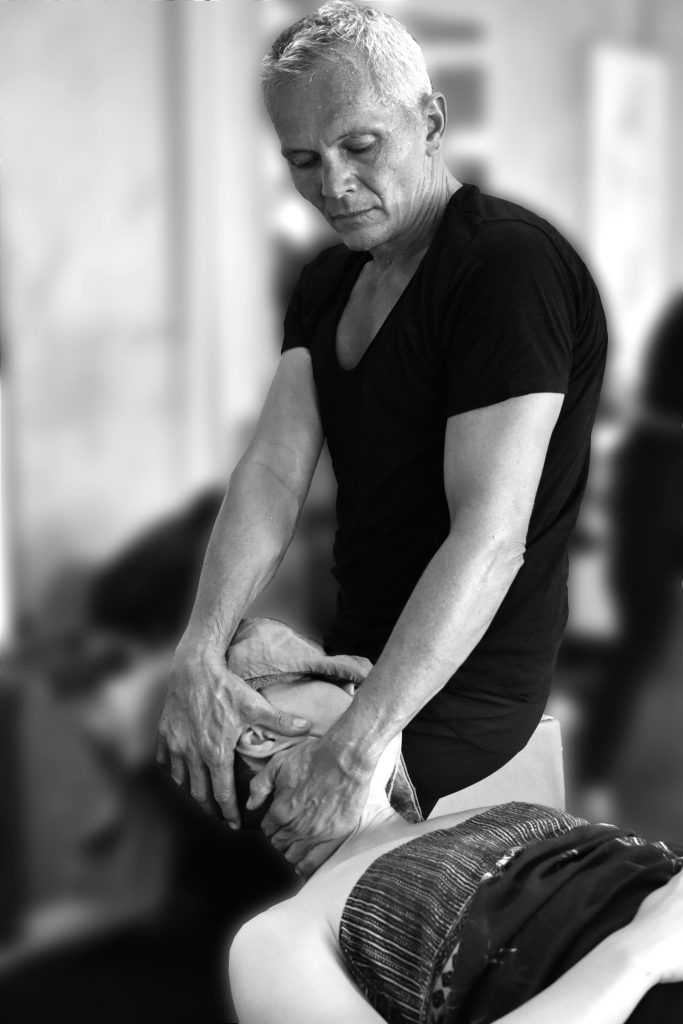 All his clients tell him that :
« It's more than just a massage ! »
Christophe Marchesseau reinvents the massage therapy and General Osteopathic Treatment (G.O.T) Body Adjustment. It was created 150 years ago by the founder of osteopathy Andrew Taylor Still (1828-1917), his student John Martin Littlejohn (1865-1947) and John Wernham (1907-2006).
Unfortunately, this was abandoned by his collegues, yet the general osteopathic treatment (G.O.T) is the basis for all teachings of osteopathy.

Christophe M. reinvents the G.O.T by adding new osteopatic techniques
– from William Garner Sutherland (1873-1954) in the craniosacral therapy,
– from Jean-Pierre Barral and Eric Hebgen in the visceral manipulation
– from Jean-Pierre Tricot in the tissue approach.
Accompanied by the rhytm of energetic breathing techniques of Pranayama and Prana Vidya by Swami Niranjanananda Saraswatti for a holistic healing method.


All these influences and 30 years of experience of Christophe Marchesseau lead to his therapeutic massage method. Christophe M. had created his Label and Signature de massage by Christophe Marchesseau®.
For whom is it intended for ?
This signature corresponds to the requirements of clients who are looking for a unique, therapeutic massage and a privileged moment that awakens their vibratory fields.
He who wishes to see how the soul dwells in its body, let him observe how this body uses its daily habitation.
The indications are multiple in cases of :
– chronic pain
– neck pain
– back pain
– muscle and joint pain
– fatigue
– jet lag
– insomnia
– stress
– depression
It also used in case of physical preparation and recovery for athletes.